No power?

LET GRAVITY help keep your business operational 24/7

We offer turn-key solar solutions that will take the hassle out of installing a solar system. At Gravity, we offer a variety of off-grid systems that are designed to save you money, reduce your reliance on Eskom and become more environmentally friendly. We cater to both residential and commercial sectors and have solutions for all budgets and sizes.

Having built up an extensive range of reputable products, we are able to offer you comprehensive packages that allow you to enjoy the benefits of smart systems for solar power.
Get in touch
Fill out the form below, and one of our friendly representatives will contact you shortly.
Grid-Tied Solar Systems
Grid-tied systems consist of solar panels and a dedicated grid-tied inverter. All the electric power generated by the solar panels feeds through a mains synchronized inverter directly into your distribution board and offsets the power you would normally consume from Eskom.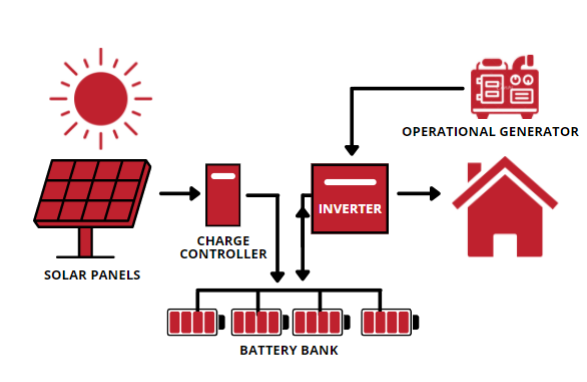 Off-Grid Solar Systems
Off-Grid Solar Systems are installed in situations where mains power is not available, or the client wishes to become completely independent of the grid. All power is generated by the solar panels; a battery bank stores excess power for use at night or when the sun is not shining.
A generator will be vital to ensure off grid consistency and the upkeep of power supply to the business.
Hybrid Solar Systems
Hybrid solar systems generate power in the same way as a common grid-tie solar system but use special hybrid inverters and batteries to store energy for later use. This ability to store energy enables most hybrid systems to also operate as a backup power supply during a blackout.
Affordable &

environmentally
friendly solar solutions