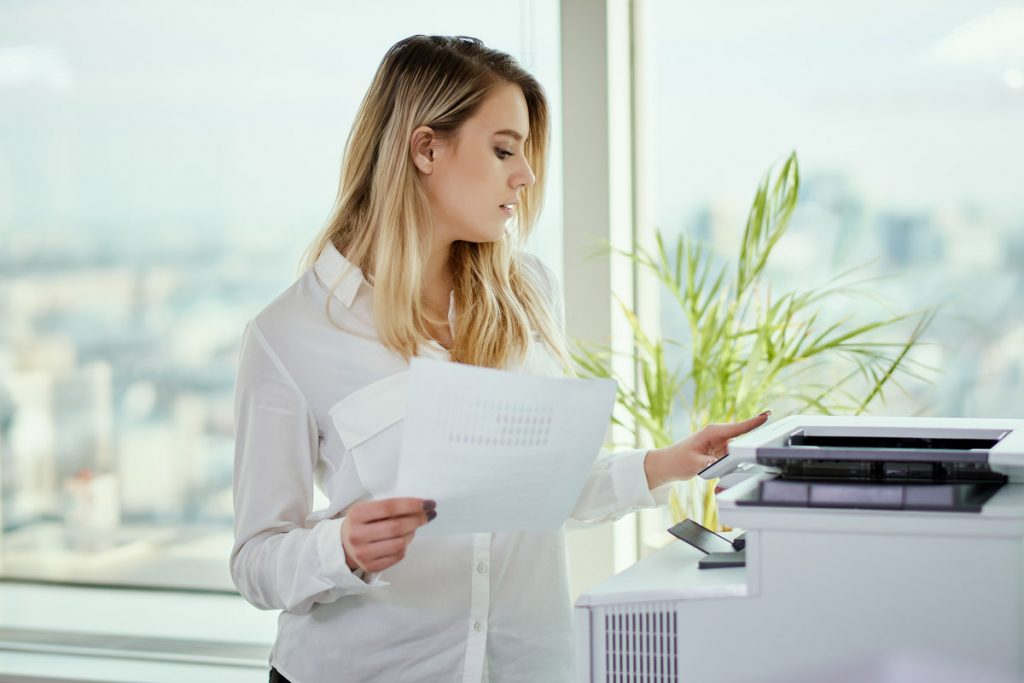 11 Feb

Choosing the Right Printers to Meet Your Business Needs

Printers and copiers are vital to the success of your business. The right printer can boost your business's productivity, output, and even workflows.

Every business's needs are different, and selecting the best printer for your business isn't always as easy as it seems. Between the intricate technical specifications and the hordes of models available, choosing a new unit that matches your business' needs can often feel overwhelming.

In this guide, the experts at Gravity are going to help make your printer shopping journey a little more stress-free. Here, you'll learn about the different kinds of printers available and what you need to know when buying.

1. Evaluate your needs.

Before shopping for new models, the first thing you will need to consider is, who will be using the printer, for what will it be used and how often. Understanding what you expect from your device is what will lead you to purchasing the right printer for your business.

Here are a couple basic questions to guide you:
How many pages does your company print per month?
How many employees will be using the device?
Do you need to copy, scan, and/or fax, in addition to printing?
Do you need full colour printing in your business practices, or can you get by with just black and white?
What type and size documents do you need to produce?
Will stapling/sorting be required?
Will you need additional printing trays to meet your business needs?
Once you've fully accessed your needs, it's time to dive deeper into printer types and features.
2. Inkjet vs laser printers
In the question of inkjet vs. laser printers, it's all boils down to what you want to do, and which technology is better suited to those needs.
The biggest differences between inkjet and laser printers is that an inkjet printer uses ink cartridges to spray minuscule droplets of ink onto paper while a laserjet printer uses toner powder to form the printed text and images on the paper.
Inkjet printers are suitable for low volume printing, and are generally the choice of home users, while a laser is ideal for high volume printing, and is mostly used in office settings.
3. Multifunction vs single function
The second way to choose a type of printer is based on capabilities. If you want a machine that allows you to print, copy, scan, and/or fax, you should consider a multifunction printer. Single function printers only let you print documents. Most office printers sold these days are MFPs.
4. Cost of ink
Printing costs are something that you can't afford to ignore, regardless of what business you're in.
Usually, the cheaper your printer is at cost, the more you'll end up spending on ink. This is because inexpensive printers are designed for users who don't print that much. Therefore, getting the cheapest printer often isn't the least expensive option if you operate in a high print volume environment.
Most office automation companies will include CPC (cost-per-copy) rates in the printer specifications list to help you choose the right printer for your needs.
5. Deciding on whether to purchase once-off or over a period of months
Once you've decided on a printer, the next step is to tackle the purchasing decision. A monthly installment will work best for you if your business has limited capital as you won't be making as much of a dent in your cash flow. Rental options allow more flexibility, you can opt for more flexible payment plans, which align with your business' needs. Rentals are more expensive in the long run due to the inclusion of interest within the monthly payment, however, rental is regarded as off-balance sheet financing and the full costs are deductible before net profit which has a major tax benefit.
Renting office printers allows your company the ability to upgrade more often without losing money because you won't have a large sum of capital tied up in that machine. This way you'll be able to keep up to date with current technology and the latest trends of equipment.
A rental solution manages the lifecycle of the asset through Procurement, Deployment, Upgrades, Maintenance and finally Retirement. There's no need to worry about maintenance. Your company will be able to focus on its bottom line while the hassle of repairs is left to experienced technicians – most office automation companies set up routine maintenance checks to ensure all your office printers are in proper working order.
Buying your printer upfront is your best option if you able to afford the initial expense, it can be less costly in the long term and also offer long-term value. Purchased equipment can be written-off for tax purposes in terms of SARS wear and tear allowances, and also become company assets. However, if you're making a major purchase, this large payment could affect cash flow that is required for other areas of your business operations.
Just like any other major business purchase, you should always first do your homework so that you are be confident that your business will benefit from having the latest technology best suited for your needs.